Date TBA in September, see schedule below for your time, Heather Hannaford Arts Space, Anne Roberts Young Elementary.
This is a major MANDATORY event in which the students rent their instruments, and older students in the band program & community members help them learn one-on-one in instrument-specific clinics. This is the only day the instrument rental company Sight & Sound from Terrace is in town and that these extra helpers are available! Normally, private lessons are $50/hour and your child gets several hours for FREE!
We highly encourage you to pre-rent with Sight and Sound before arriving at Squeak and Squawk – otherwise lines get very long with 120 students needing to rent! Other rental options are available, but we assume you are renting through Sight and Sound unless we hear otherwise. ALL Students are still expected to attend Squeak and Squawk. Sight and Sound's website is: http://www.sightnsound.ca/en/pg-band-rentals
We are in need of parent volunteers for this event. Please contact us if you can help.
The event begins at 4:30 and runs until 8:30 and clinics will be available to students for the entirety of this time regardless of their rental time.
Band shirts needed for performances ($10 or $15), and band books needed for class ($15) are available for purchase. Additional reeds & cleaning materials are also available for purchase, although we provide the first 2 reeds free. Please if you are using cheques make them out separately. (Extra shirts from over the years available in person for $10 but we cannot guarantee size or quantity, so if you want a specific size, you can order a shirt for $20.)
The event runs 4:30-8:30 and clinics will be available to students for the entirety of this time regardless of their rental time. Maps of the clinics are available in the main band room, the Heather Hannaford Arts Space.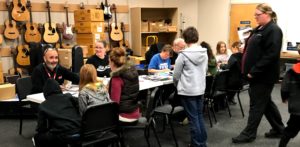 To speed up rentals and ensure all parents are waiting as short as possible, we once again encourage you to pre-order with Sight & Sound (or alert us of other plans), and to rent during your designated time, by feeder school. This will ensure the proper paperwork is waiting and ready for you:
4:30 Central
5:00 CM Finch & Margaret Ma Murray
5:30 Robert Ogilvie
6:00 Charlie Lake & Bert Ambrose
6:30 Taylor & Baldonnel
7:00 Alwin Holland & Anne Roberts Young
There will be an important meeting for all parents from 8-8:30pm in the GYM, during which time the rentals & sales will stop, although the clinics will continue for students while their parents are in the meeting.